Jovem, intenso, inovador, Dean Boxall é a mais nova face dos treinadores da natação australiana. Cabelo longo, rabo de cavalo, e intensidade, é difícil não identificá-lo nos aquecimentos das competições internacionais. Boxall foi anunciado esta semana como o Treinador do Ano pela ASCTA, Australian Swimming Coaches and Teachers Association.
É a consagração para um belo trabalho feito nestes últimos anos. Desde a saída de Michael Bohl do St. Peters Western para assumir a Griffin University, Boxall subiu da equipe júnior para tomar a equipe principal. Mesmo com a saída de Bohl e todos os nadadores de elite de seu grupo, Boxall conseguiu manter o SPW entre os melhores clubes do país.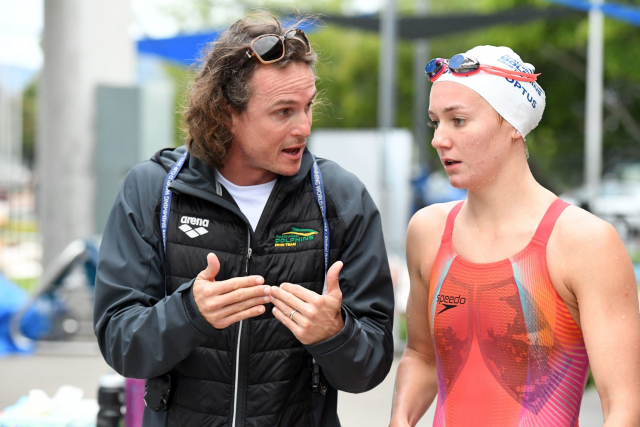 Boxall já havia sido escolhido como o melhor treinador do ano no júnior e agora recebe o seu maior reconhecimento profissional. Trabalho espetacular com sua fundista Ariarne Titmus e Mitchell Larkin, além de outros destaques da Seleção Nacional, Clyde Lewis e Jack Cartwright.
Um pouco de Dean Boxall e Ariarne Titmus neste vídeo da Swimming Austrália
Todos os premiados em cerimônia via teleconferência da ASCTA:
Coach of the Year: Dean Boxall (St Peters Western, QLD)
Outstanding Coaching Achievement: Adam Kable (SOPAC Hub, NSW)
Open Water Coach of the Year: John Rodgers (Noosa Aquatic, QLD))
Multi-Class Coach of the Year: Jon Bell (Tiffany Thomas Kane); Harley Connolly (Lakeisha Patterson)
Masters Coach of the Year: Greg Gourley (Tuggeranong, ACT)
Outstanding Contribution To Swim Coaching In Australia: Reece Rackley (Rackleys, SE Qld)
Outstanding Contribution to swimming in Australia: Peter Tonkin OAM OLY
Life Membership: Ralph Richards
Outstanding Supporters Awards for Swim Australia: Vorgee, Dawn Fraser, Kids Alive and World Wide Swim Schools (Laurie Lawrence); Gold Class (Leigh Nugent, Gary Barclay and Rohan Taylor); Dita Solutions; Ian Hanson (Hanson Media Group).
Outstanding Community Service Award: The Warwick Indoor Recreation And Aquatic Centre
SwimSAFER: Airlie Beach Swim School by Danielle Shae;
Best Swim School- Marketing, Promotion and Customer Service: SwimSations (Goonellabah Sports And Aquatic Centre, NSW); Jayson Lamb's Splash Factory
Best Swim School- Inovation: Barker Foundation Aquatic Centre); Kirby Swim Karrinyup
Swim Australia Teacher of the Year: Lyn Barrett (Yeppoon Aquatic Centre)
Swim Australia Teacher of Learners with a Disability, Teacher of the Year: Trish Bailey (Goonellabah Sports And Aquatic Centre, NSW)
Swim Australia Teacher of Babies and Toddlers Teacher of the Year: Craig Beck (Northern Rivers Swim Academy, Lismore, NSW)
Meritorious Service To The Teaching of Swimming in Australia: Chris Delitt (Little Snappers Swim School, FNQ)
https://bestswimming.swimchannel.net/wp-content/uploads/2020/05/dean-boxall-pool-deck-700x500-1.jpg
406
569
Alex Pussieldi
https://bestswimming.swimchannel.net/wp-content/uploads/2020/11/a3e-640x74.png
Alex Pussieldi
2020-05-23 20:25:52
2020-05-23 20:25:52
Dean Boxall, o treinador do ano na Austrália